You must allow cookies and JavaScript for a proper shopping experience.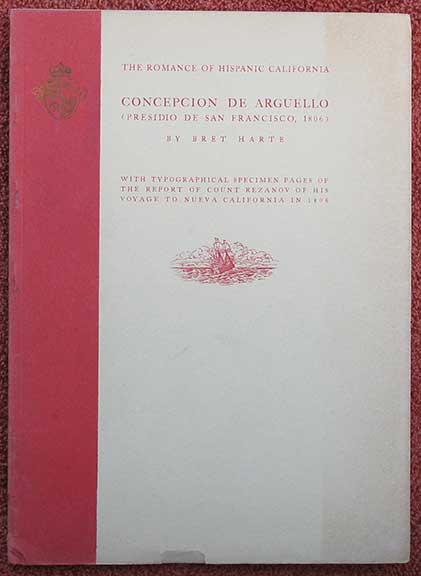 Price: $50.00
Publisher: San Francisco: Russell, 1926.
Seller ID: 55499
---
Stiff 2-tone decorative wrappers designed and lettered in red. A little edge wear, sunning to fore-edge, a very good copy. "With Typographical Specimen Pages of the Report of Count Rezanov of His Voyage to Nueva California in 1806". 16pp., some specimen pages from this private press book, published by Russell in 1927: Langsdorff's Narrative of the Rezanov Voyage to Nueva California in 1806. The cover title includes: The Romance of Hispanic California.
View More...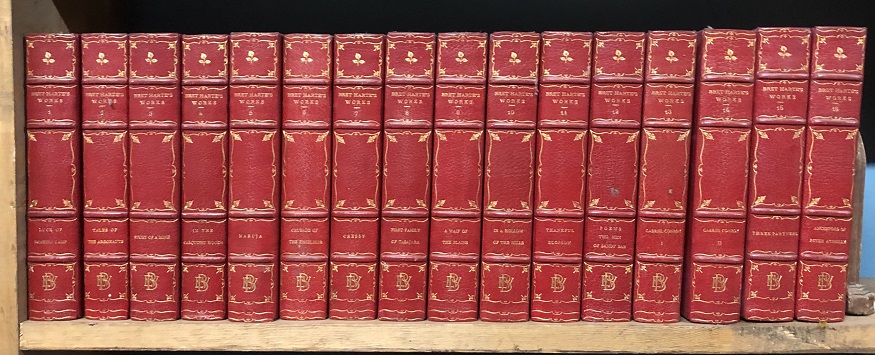 Price: $300.00
Publisher: Boston & NY: Houghton, Mifflin, (1897)
Seller ID: 56618
---
Sixteen volumes. Three-quarters red morocco & marbled boards, spine designed and lettered in gilt. Marbled end papers. Owner's monogram (EVB) in gilt on the front cover. Frontispieces and several plates in each volume. Title pages printed in black & red. This is the Standard Library Edition. A clean and attractive set in great condition. Sets of Bret Harte in this edition exist in varieties of 16, 19, and 20 volumes. The first edition of Harte's accumulated work was published in five volumes in 1882. The set was expanded to 14 volumes in 1897, then enlarged to 16 volumes to include his later w...
View More...