You must allow cookies and JavaScript for a proper shopping experience.
Price: $45.00
Seller ID: 54880
---
A single leaf, 8.5 x 11 inches, creased horizontally where once folded, very good. Dated 4/7/72 this begins: "Miss AKN / I am concerned over the possibility of using an / Executive Type swivel chair in the general reading / room of the new Bancroft Library". Pencil notes indicate that the possible author (signed 'GPH') was a G.P. Hammond. Printer may have been Wm. P. Barlow, but this is unverified.
View More...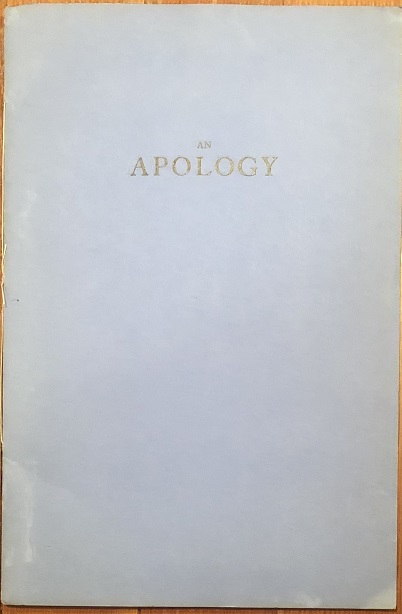 Price: $75.00
Publisher: Piedmont: Wm. P. Barlow / The Nova Press, 1960.
Seller ID: 56980
---
Original blue wrappers, sewn. Front cover lettered in black. A few scratches and light wear to wrappers, in general a clean and very good copy. Separately printed inclusions include a large broadside, a miniature leaflet, and a couple of other examples. A rather funny little diatribe on keepsakes, and quite scarce.
View More...