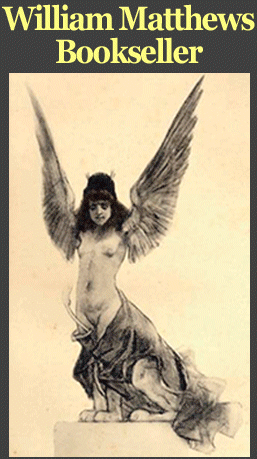 600 Walker's HookSalt Spring IslandBritish Columbia ~ V8K 1N6Canada
Member: Antiquarian Booksellers Association of Canada / International League of Antiquarian Booksellers



Specialists in Early Works of Weird, Exotic & Unusual
Fantasy, Mystery, Thrillers, Lost-Race and Adventure Fiction

Poetry, Broadsides, Ephemera, Unusual Literature, Scarce Imprints, Antiquarian Books


Please Note Our New Address, Effective July 2017


This is the ecommerce site of William Matthews, Bookseller. Please search or browse our inventory of early works of Weird Fiction, Unusual Fantasy,
Science Fiction, Mystery, Thrillers & Adventure Fiction, and General Antiquarian Books in many fields.

If there are books which you are seeking but cannot find, please fill out our off-line search form and we will try to locate them for you.

Old and Rare Books Bought, Sold, Appraised

Est. 1976